Soccer Goals for Healthy Goals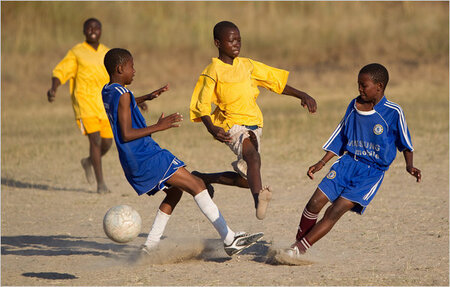 TRIAD Trust's SOCCER GOALS FOR HEALTHY GOALS Initiative
The TRIAD Trust is excited to announce
Soccer Goals for Healthy Goals
, a FUNdraising plan that will connect young people around the world and unite you in the fight against HIV/AIDS.
WHAT IS MY TEAM SUPPORTING?
The TRIAD Trust trains local leaders in southern Africa and Haiti — two areas hardest-hit by HIV/AIDS — to create and run HIV-prevention education workshops for teenagers. In these regions, up to 40% of the local population is HIV+, and half of the kids are orphans and vulnerable children. Since 2007, we've helped implement programs that teach those kids crucial knowledge and decision-making skills, so they can make healthy choices
and stay HIV-free

.
We hold our interactive workshops both in schools and on athletic fields, where kids learn while playing their favorite sport: soccer!
And it works. To date, more than 88% of age-eligible kids who participate in TRIAD-affiliated programs seek free, confidential HIV testing — compared to less than 0.5% of their communities. Through our programs, we aim to reduce the transmission of HIV in these places to zero. With every child we reach, we get closer to our goal! TRIAD-trained leaders have already taught workshops to over 24,000 youth, and we're beginning a new round of leadership training that will allow us to reach an ADDITIONAL 46,000 orphans and vulnerable kids by the end of 2018.
To do that, we need YOUR team's support

.
WHAT IS SOCCER GOALS FOR HEALTHY GOALS?
TRIAD's campaign is simple. Each player on your team's roster asks family and friends to pledge a donation per goal scored during the season. For example, Gabi Goalscorer gets her neighbor, Mrs. Johnson, to pledge $1 per goal scored. Let's say the team scores a total of 20 goals during the season. Mrs. Johnson would then donate $20. Gabi's other family and friends pledge a total of $24 per goal. Her efforts alone raise $500! If Gabi's 19 teammates each work as hard, the team can raise $10,000 — enough to cover the costs of teaching 2500 kids for a year! That's 2500 kids taught how to live HIV-free lives, made possible by
your
goals. Knowing the impact of each goal, we need as many teams scoring as many goals as possible.
Participating in
Soccer Goals for Healthy Goals
encourages team unity, the satisfaction of playing for a lifesaving cause — and comes with a prize. The team that raises the most money will win
cool prizes
for their team! And the
club
that raises the most will win a grand prize
!
HOW DOES IT WORK?
TRIAD works with PledgeIt.org to make
Soccer Goals for Healthy Goals
super easy for players to explain and help promote. We set up your team's pledging page for your players to share with family and friends.
Take a look here at our demo page
.
Let's get started scoring goals for healthy life goals!
CONTACT:
TRIAD Trust
info@triadtrust.org 617 716 4357