Haiti's Newest ImprovED Troupe Wraps Training in Port Salut
Tuesday, September 18, 2018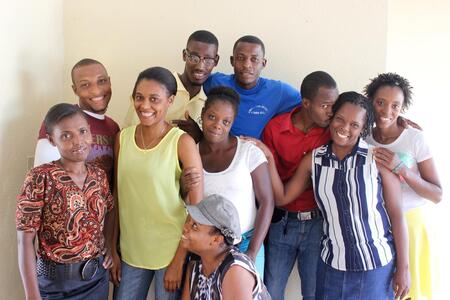 TRIAD Trust is thrilled to introduce the newest ImprovED troupe, working in and around Port Salut, Haiti!

Nine troupe members and their program manager are getting ready for their final certification exam and expect to be working ongoingly with thousands of young people across the Port Salut area within the next two months! The workshops they will lead are the most innovative and effective Life Skills programs in the country. Their interactive education programs use music and improvisational comedy to engage vulnerable young people to discuss how best to navigate all of the difficult decisions around Sexual and Reproductive Health, HIV, and a range of social situations!

The troupers have learned about and created their own curriculum covering Self Esteem, Peer Pressure, Rape & Abuse, Equality & Opportunity, Puberty, Sex, Human Reproduction, Teen Pregnancy, Contraception & Family Planning, STIs, and HIV & Stigma.