ImprovED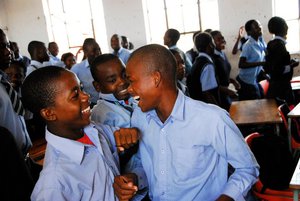 Our ImprovED program utilizes a unique
improvisation technique
that provides students a stage to
rehearse critical moments
in their young lives: deciding to become sexually active, having safer sex, getting tested for HIV, caring for a loved one who is dying, confronting a friend who is using drugs, and other relevant topics. This interactive approach creates a learning environment in which students take to the stage to find creative solutions to the challenges in their lives.
TRIAD's staff and volunteers train a troupe of local actors, musicians, and Medical Educators to implement an age-­ appropriate and community-­tailored program. By working within schools and in sports leagues and after-­school groups over a 10-­week period, the troupe acts as Performance Facilitators and introduces information each week with songs, improvisational role playing, discussion, and finally a collaborative performance scene. The regular presence of the troupe creates a
comfort and trust
amongst the youth that only comes with consistency--something too many of these children don't have elsewhere.
ImprovED is the core educational component for sports leagues started by TRIAD-­trained leaders; it is also the South African Department of Education -­sanctioned life skills curriculum in an increasing number of public high schools. After training with TRIAD's Program Director and expert volunteers, an ImprovED troupe is equipped to facilitate ongoing school-­ or field-­based interactive workshops. Using
song, improvisation, and real-­world
scenarios
, ImprovED facilitators get kids out of their seats and up on their feet learning essential life skills and honing decision-­ making.
I perform because it is safe. I am safe here. And I believe I can help others be safe through performance.