How We're Doing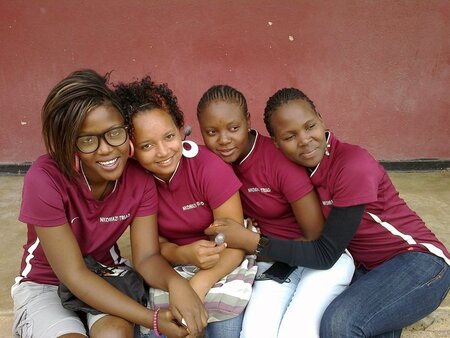 We were all told the same thing about statistics. They lie. The people who share them twist numbers to support their own agenda. Not us. Can't do it. Too much is at stake.
When TRIAD's
ImprovED
troupe first partnered with local high schools in the rural Nkomazi region of South Africa, we were confident that our methodology could eventually change the devastating reality of HIV/AIDS prevalence in the region. With more than 40% of the adult population living with HIV/AIDS, TRIAD had a Sisyphusian challenge ahead. We expected nothing more than moderate success. It was a pilot program; we were testing the waters to see how receptive school children would be to a completely different (FUN! INTERACTIVE! ADULT-FACILITATED BUT CHILD-LED! PERFORMANCE-BASED!) approach. Maybe it would work. Maybe...
We've never been so excited to be wrong about our initial expectations. In the first 3 quarters of our first year using classroom-based ImprovED programming,
88%
of those who are age-eligible participate voluntarily sought to learn their status with our affiliated testing and counseling. To put this in context, fewer than 3% of 13-18 year olds in the general population of the region at that time had been tested.
So why can't we lie? It isn't just that too much is at stake. TRIAD uses
RemoteID
technology, a patented method of record management that guarantees anonymity and confidentiality by having participants register using ONLY their fingerprints. No names. No national ID numbers. Just a quick scan of the index finger. Using RemoteID, TRIAD can not only monitor ImprovED participants' voluntary HIV testing rates, but also their recidivist testing rates, attendance at their weekly ImprovED workshops in school or in the community, and their baseline and follow-up responses in surveys measuring changes in participants' knowledge, attitudes and reported practices. In other words, after kids finish our curriculum, TRIAD can still
anonymously
and
confidentially
monitor their testing. Around the world, RemoteID has
increased access to health and social services to more than 25 MILLION
vulnerable individuals.
As of August 2021, more than
42
,000
unique youth
have participated in ongoing ImprovED and Community Outreach workshops and programs. Our experts have trained
ImprovED troupes
in
South Africa
and
Haiti
, and more than
100 Home-based Care Workers serving more than 2,000 people living with late-stage AIDS.
Demand for the program in schools has exceded the local troupes' ability to serve all the students who want ImprovED. To find out how you can help ImprovED and our Home-based Care Worker trainings grow its impact, please click
here
.